MENNONITE PALESTINE ISRAEL NETWORK

November 2020 Monthly Update

In This IssueBiden/Harris: Will Palestine Be on Their Radar?
The United States of Arms?
Jonathan Kuttab on a Post Two-State Solution
Kairos Christmas Alert 2020
Sabeel and the COVID-19 Mental Health Crisis
FOSNA and Advent: Keep Awake!
Garth Hewitt – Troubadour for Justice
Help COVID-19 Suffering in Gaza
Stay Informed on Palestine
Prayer

Biden/Harris: Will Palestine Be on Their Radar?



(Credit: Latuff 2020 – monsoweiss.net)
Their record is not promising. Both Joe Biden and Kamala Harris have voted consistently pro-Israel in the Senate. Both consider themselves Zionists and have taken photo ops with the Israeli Prime Minister, Benjamin Netanyahu. Both consider conditioning military aid to Israel out of the question. Biden termed it, "absolutely outrageous."

But while campaigning in Detroit in late October, Harris had some hopeful things to say to The Arab American News: "Joe and I also believe in the worth and value of every Palestinian and every Israeli and we will work to ensure that Palestinians and Israelis enjoy equal measures of freedom, security, prosperity and democracy. We are committed to a two-state solution and will oppose any unilateral steps that undermine that goal. We will also oppose annexation and settlement expansion. And we will take immediate steps to restore economic and humanitarian assistance to the Palestinian people, address the ongoing humanitarian crisis in Gaza, reopen the U.S. Consulate in East Jerusalem and work to reopen the PLO mission in Washington."

In another hopeful sign, the Israeli newspaper Haartez reported on November 24, 2020 that senior Palestinian Authority (PA) officials have opened talks with the Biden transition team for a phone conversation between President-Elect Joe Biden and PA President Mahmoud Abbas. A few days ago, Biden spoke with Jordan's King Abdullah. After reaching a low during the Trump administration, the talks could begin what might become an important turn in US relations to Palestine.

Re-establishing relations with Palestine and returning humanitarian aid to Palestine and Gaza would certainly provide needed relief to the desperation felt by the people of Palestine. But even if they follow through on all the things Harris promised in The Arab American News interview, that would at best return to the pre-Trump status quo. Palestinian voices know that only too well:

Hanan Ashwari, Palestinian political leader, educator and activist: "We have no illusions. Biden is no savior…American policy has failed repeatedly…in protecting human rights…[He should] forge a new way ahead, not by going back to the way things were before…Palestine now is part of the American conversation, no longer taboo. We are part of a movement to respect human rights."

Ali Abunimah, Editor of Electronic Intifada: "Biden has already endorsed some of Trump's signature pro-Israeli policies. He has welcomed normalization deals the Trump administration brokered between Israel and the United Arab Emirates and Bahrain…Yet there is a slight shift in tone…Kamala Harris pledged that the Biden administration would restore humanitarian aid for Palestinians cut by Trump…But at best it would mark a return to a status quo where Palestinians are kept on life support while Israel continues to aggressively steal land and violate their rights with impunity."

Noura Erakat, human rights attorney and Palestinian activist: "Palestinians understand that the election of Joe Biden is not a panacea that will ensure Palestinian freedom…While the majority of Palestinian Americans, and Arab Americans more generally, supported the Biden-Harris ticket, they did so understanding that they did not have — and have never had — a presidential candidate who represented their freedom dreams for Palestine. This is not to say that there is no daylight between President Trump and Biden on Palestine. The Biden administration, for example, could reinstate U.S. aid for Palestinian refugees, and it will allow the reopening of the Palestine Liberation Organization Mission Office in Washington; it also wants to include Palestinians back in negotiations…Ultimately, the path forward does not look for saviors in U.S. politicians but seeks strategic interventions within a broader set of tools, including the Boycott, Divestment and Sanctions (BDS) movement and building solidarity with other social justice struggles."

Voice from a café in Bethlehem: "Trump was horrible for us, that's for sure. But do we honestly think Biden is going to be better for us than any other president, like Obama? I don't think so…I think Biden is going to return us back to the days of Obama, where the US maintained a façade of being an honest peace broker, but in reality was still supporting fully Israel and the Zionist agenda…If Trump did anything positive, he lifted the veil off the false pretense that the US cared about Palestinian rights. But with Biden, we'd just be going back to that false sense of security."

But maybe, just maybe, Biden will remember a fiery speech he gave in 1986 in the Senate Foreign Relations Committee when he passionately expressed his opposition to another apartheid state, South African: "Dammit, we have favorites in South Africa. The favorites in South Africa are the people that are being repressed by that ugly white regime…Hell, they've tried to compromise for twenty years. They've tried everything. Everything in their power! And look what's happened to them. They're being crushed…Our loyalty is not to South Africa, it's to South Africans. And the South Africans are the majority black. They are being excoriated."
The United States of Arms?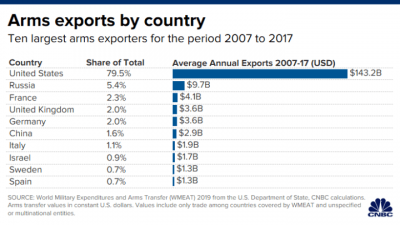 For decades, the United States has been by far the largest exporter of arms around the world. Most of those arms are sold to authoritarian regimes. It is increasingly apparent that a central feature to the Abraham Accords normalizing relations between Israel and the United Arab Emirates and Bahrain was the promise by the United States to a massive sale of arms. The Trump administration recently announced the $10 billion munitions package to the UAE, including 50 F-35s, 18 MQ-9 Reapers, MK 82 dumb bombs, guided bombs, missiles and more. The weapons will be used in the UAE's war in Yemen.
Jonathan Kuttab on a Post Two-State Solution



In addition to serving on the MennoPIN Steering Committee, Jonathan Kuttab wears many hats. He is a human rights attorney who has practiced law in the United States, Palestine and Israel; serves on the board of Bethlehem Bible College and is a co-founder of Nonviolence International. Jonathan has recently returned from a month-long observation trip to Palestine.

After the announcement of the Trump Administration's support for Israel annexation of significant portions of the West Bank, Jonathan wrote a book, Beyond the Two-State Solution, on a way forward for a one-state solution now that the two-state solution is no longer viable and charts a path that challenges both Zionism and Palestinian nationalism. You can learn more about this possible solution by:
Watching an interview hereOrdering a copy of his book here Kairos Christmas Alert 2020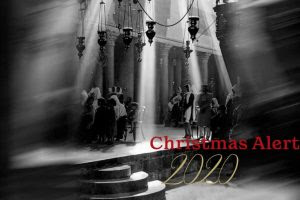 Kairos Palestine describes their Christmas Alert this way: "This year the Christmas Alert shed light on the importance of restoring a new hope for Palestine amidst the new happenings worldwide that are affecting Palestine. We need new light and hope to come from the hearts of all believers in the Christmas message to encourage churches around the world to act Let us all together spread the message of Palestinian Christians around the world!" To read the entire alert, click here.
Sabeel and the COVID-19 Mental Health Crisis



The Sabeel Ecumenical Liberation Theology Center, Sabeel, has published the most recent issue of their newsletter, Cornerstone, about the COVID-19 crisis in Palestine and its devastating impact. Articles include "Love Transcends Pandemic," "Depression in Palestine During COVID-19," and "Moving Forward: A Path to Liberation." To read the entire issue, click here.
FOSNA and Advent: Keep Awake!



This year the first Sunday of Advent and International Day of Solidarity with the Palestinian People coincide on November 29, 2020. The Friends of Sabeel North America (FOSNA) is encouraging congregations to preach on Palestine this first Sunday of Advent. They have provided multiple resources from liturgies, hymns, sermons, children's stories, artwork and more on their website here. Consider preaching Palestine either November 29 or any Sunday of Advent. Keep Awake!
Garth Hewitt – Troubadour for Justice



Garth Hewitt is an activist, song writer and Anglican priest who regularly champions the cause of Palestinian justice and freedom. The Indian Center for Middle East Peace is hosting Hewitt in a live concert and conversation on December 6, 2020 at 2:00 pm Eastern time. Join ICMEP and Hewitt commemorating the 1948 United Nations Universal Declaration of Human Rights here.
Help Alleviate COVID-19 Suffering in Gaza
The health crisis Gaza has been facing is made worse by the expanding COVID-19 suffering people there are facing now. One way you can help alleviate suffering in Gaza is to support a project with the Youth Vision Society that MennoPIN has been supporting in our Gaza Twinning Initiative. Please consider supporting this tremendous need in Gaza here.
Stay Informed on Palestine
MennoPIN keeps you informed about Palestine through our monthly update, special alerts, calls to action, important resources and tour possibilities, all from an Anabaptist perspective. But there are additional excellent organizations and web publications that can keep you informed, some on a daily basis. We invite you to explore these groups and visit the web publications as another way to keep current and active for the people of Palestine. Here are some MennoPIN recommends:

OrganizationsFriends of Sabeel North America (FOSNA)Sabeel Ecumenical Liberation Theology Center (Sabeel)Mennonite Central Committee Palestine and IsraelChristian Peacemaker TeamsU.S. Campaign for Palestine Rights (USCPR)Kairos PalestineKairos USAAmericans for Middle East Understanding (AMEU)Christian ZionismPalestinian Christian Alliance for PeacePalestine Portal
Web PublicationsMondeweissThe Electronic Intifada+972 MagazineB'TselemPalestine InSight
PrayerConcerns have been expressed at an international level over the way the Israeli government is expediting plans to build 1,257 settler homes beyond the Green Line in Giv'at Ha Matos Israeli settlement in East Jerusalem. There are fears that approval plans for this contentious project, as well as a number of others, will be rushed through before a change in the US administration in the New Year…Lord, we cry out to you for mercy as we see more plans for a massive expansion of settler unit building in East Jerusalem and elsewhere in the occupied Palestinian Territories. We pray that governments around the world will speak out strongly over further breaches of international law. Lord, in your mercy… hear our prayers. Sabeel Wave or Prayer https://sabeel.org/2020/11/23/sabeel-wave-of-prayer-147/Sabeel Wave of Prayer